High Quality
UV Sterilizers:
Floor standing or wall mounted options

Unique narrow design

Electronic ballast

PVC pipework

Easy to shut-off and remove

Genuine quartz sleeves
Products Available:
EVO 220 Watt #UVMCOM220
EVO 330 Watt #UVMCOM330
EVO 440 Watt #UVMCOM440
EVO 550 Watt #UVMCOM550
EVO 660 Watt #UVMCOM660
How the Commercial UV Sterilizer Works
Manufactured in-house in the UK, and fully serviceable, evoUV Commercial Sterilizers are reliable and economical, and available in a number of models and designs to suit your specifications.
Commercial evoUV Sterilizers use high quality, energy efficient ballasts coupled with the best Osram UV bulbs and quartz sleeves.
Slimline, safe, easy to fit, and easy to change the tubes and sleeves, evoUV Commercial UV System offer a complete sterilization solution for a whole range of applications.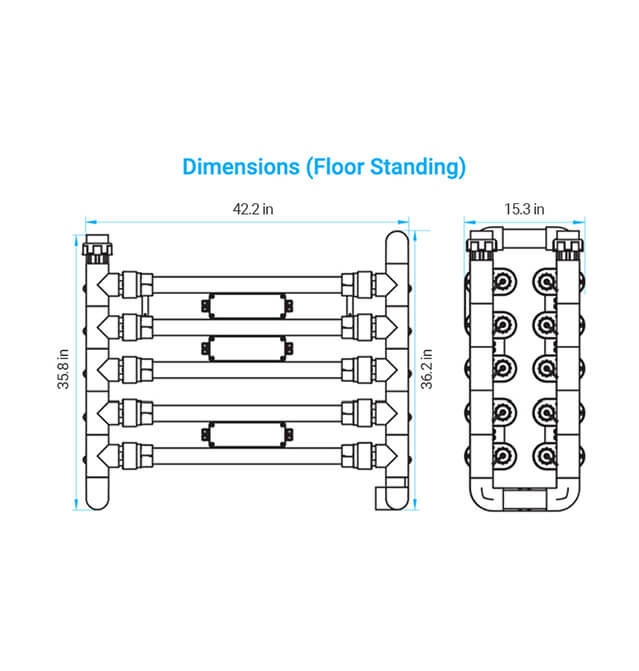 Specifications
Model
Max. system volume
Standard flow rate*
Number of 55 Watt lamps
Total UVC Radiation emitted†
Fixing
evoUV
COMMERCIAL
220 Watt
528 US Gals
2,100 US Gals
4
72
Wall Mountable / Floor Standing
evoUV
COMMERCIAL
330 Watt
793 US Gals
3,200 US Gals
6
108
Wall Mountable / Floor Standing
evoUV
COMMERCIAL
440 Watt
1057 US Gals
4,200 US Gals
8
144
Wall Mountable / Floor Standing
evoUV
COMMERCIAL
550 Watt
1320 US Gals
5,300 US Gals
10
180
Wall Mountable / Floor Standing
evoUV
COMMERCIAL
660 Watt
1585 US Gals
6,600 US Gals
12
220
Wall Mountable / Floor Standing