Ultraviolet Clarifiers for ponds:
Eradicates green water in garden ponds
Features highly efficient ballasts
IP Rating of IPX5
Easy to maintain, easy to install
Ballast located in a fully water-tight cover
Connects to flexi-hose or rigid pipework
Products Available:
EVO 15W UV #UV15CE
EVO 25W UV #UV25CE
EVO 30W UV #UV30CE
EVO 55W UV #UV55CE
EVO 110W UV #UV110CE
How the evoUV Works
The evoUV range of clarifiers have been designed to clear green water which is caused by single celled green algae and prevent it from returning. They will work alongside many different filtration systems but when used alongside Evolution Aqua's pond filtration systems, the evoUV will help to deliver crystal clear and healthy pond water.
Your evoUV professional quality UV can be connected to your pond pump and filter with flexible hose using the stepped hosetails provided, or you can install the unit using hard pipe.
Installing the EvoUV
PUMP-FED INSTALLATION
Install evoUV before the filter on the pipework run from the pond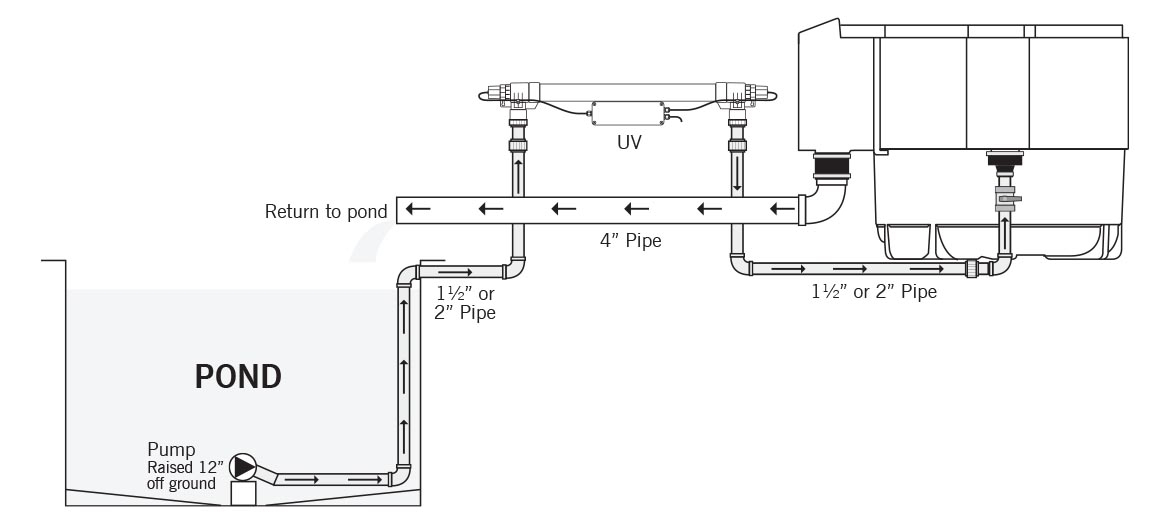 GRAVITY-FED INSTALLATION
Install evoUV after the filter on the return to pond pipework run.

Specifications
| Model | Max. pond size | Max. flow rate | Bulb power | Inlet / Outlet | Fittings supplied | Dimensions |
| --- | --- | --- | --- | --- | --- | --- |
| | 4,000 US Gallons | 2,000 US Gallons/hr | 15W (1 x 15W T8) | 1½" | 2 x 1½" Threaded Hosetails | 20.9" length x 6.6" high x 3.5" deep |
| | 5,300 US Gallons | 2,600 US Gallons/hr | 25W (1 x 25W T8) | 1½" | 2 x 1½" Threaded Hosetails | 22.8" length x 6.6" high x 3.5" deep |
| | 7,900 US Gallons | 4,000 US Gallons/hr | 30W (1 x 30W T8) | 1½" | 2 x 1½" Threaded Hosetails | 38.6" length x 6.6" high x 3.5" deep |
| | 14,000 US Gallons | 5,000 US Gallons/hr | 55W (1 X 55W T8 | 1½" | 2 x 1½" Threaded Hosetails | 38.6" length x 6.6" high x 3.5" deep |
| | 19,500 US Gallons | 6,000 US Gallons/hr | 110W (2 X 55W T8) | 2" | No Fittings Supplied | 41.5" length x 9" high x 6.3" deep |